July 18th, 2015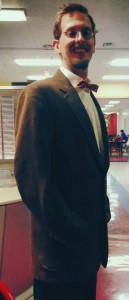 Missionary: Joseph T. Patrick (JT)
Sending Church: Holston Baptist Church
Home: Bluff City, Tennessee
Mission Field: Guayaquil, Ecuador
Ministry: Street Teens and Children Ministry
Ministry Vision: Working beside the Local Church to reach out to street teens and children. Sharing the Gospel through life skills, and providing alternative solutions instead life of drugs and crime.
About Missionary:
I was born in Bluff City, Tennessee in January of 1985.I grew up with two siblings and a lot of cousins we all have grown up in church all our life. My education included Weavers Elementary, Bluff City Middle School, Sullivan East High School, East Tennessee State University, and Baptist College of Florida. I studied in Religious Studies and Early Child Development at ETSU for five years. At Baptist College of Florida he majored in Mission Studies.
Ministries been involved with:
Child Evangelism Fellowship: Five day clubs, Good News Camp.
Children Church Teacher, Youth Group Teacher
College Ministry Leader, Deaf Ministry
Servant Leader team- Christian Student Fellowship at ETSU
Missions and Internships:
Madrid, Spain- Campus House (Christian Student Fellowship) 2 weeks
Estancia de Animas, Mexico- Campus House (Christian Student Fellowship) 2 weeks
Orosi, Costa Rica- internships in 2013 For Baptist College of Florida
Orosi, Costa Rica- Internship in 2014 for Global Outreach Mission